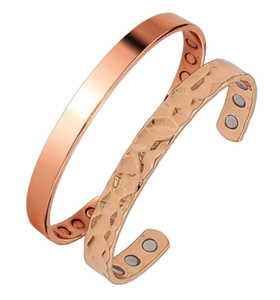 TREAT CHRONIC PAIN in style with these attractive magnetic arthritis cuffs. Safe for external use, including for dogs.

RARE EARTH MAGNETS: Contains 6 authentic, high-quality, rare earth magnets delive

EFFECTIVE AND NONINVASIVE: Benefit from magnetic therapy treatment instead of invasive OTC pills. Earth Therapy copper magnetic bracelets can help to relieve Arthritis, Joint Pains, RSI, carpal tunnel, migraines, and fatigue. Start taking the steps you need to get back in control of your health.

NATURAL PAIN MANAGEMENT: Ideal for relief and recovery from the pains and symptoms associated with arthritis. This elegant design is sure to grab compliments while also acting as a highly effective pain reducer.